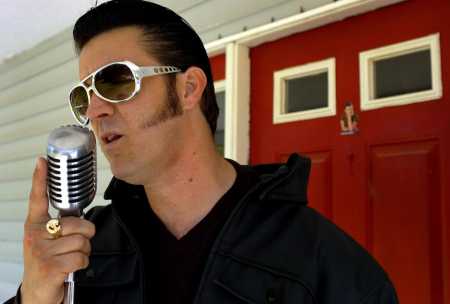 May 18, 2008
By Michael Kruse
THE STORY:
Hernando County Elvis impersonator Kenny Grube, rubber-burning rebel turned family man, traveled to Birmingham, Ala., in his 1993 Winnebago Warrior motor home with his wife, Stephanie, and his daughters, Siobhan and Kaitlyn, for his first out-of-state competition against other Elvises. Winner got $1,000 and a coveted spot in the Images of the King contest during Elvis week in Memphis.
Twelve minutes.
Three songs.
One big chance.
FROM THE STORY
: "What do they say? When you quit something, being great was right around the corner?" he says. "But right now Elvis is my bread and butter."
That started in November '03, when he put on a gold suit and emceed an event at Spring Hill's Music Bum store. A lark. Then came singing telegrams and school functions and dinner parties. Stephanie works full time as the marketing director for an assisted living facility. But Kenny can make $650 to $1,000 a week, doing three, even four shows a weekend, at $250 an hour. Last year, Stephanie says, Kenny earned about $15,000.
"By the remarks that people have said, I think it's a good enough show to make it really big," Kenny says. In the motor home, a plastic Elvis dangles from the rearview mirror and shakes with the bumps along the way.
"If it's just good enough to stay in Central Florida, that's okay, too, but I believe we could get really big."
It's getting wee-hours late, and the cab gets quiet somewhere south of Tallahassee, where the road is long and dark and the bright lights come only every once in a while.
THE REST OF THE STORY:
The economy might be down, but the Elvis business is good, and getting better, according to Grube.
"More and more gigs," he said in a recent phone conversation. "It's full time now. It's all I'm doing."
He has done the Tampa Elvis Festival.
In Hernando and Citrus counties, he performs for the Michigan Club in Spring Hill, the Italian-American Club in Crystal River, sometimes two, three assisted living facilities a day. He has standing gigs at the outlet mall on U.S. 19 in Spring Hill and at the popular Coney Island hot dog place in Brooksville.
"Just bringing smiles to people's faces," he said.
WHAT HAPPENS NEXT:
Grube's Elvis show is becoming a family business. Wife Stephanie does marketing and booking. Daughter Siobhan helps run the lights and the mixing board. And Kaitlyn, the younger daughter, does her part by dancing it up.
"We all do it together," Grube said.
He also hopes at some point to add a backup band to his repertoire.
"To try to get some bigger fairs and festivals," he said, "be the main act."
Source Article:
http://www.tampabay.com/features/humaninterest/article510441.ece